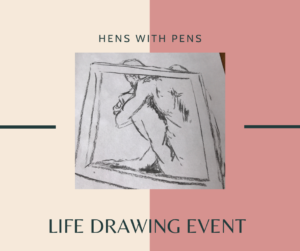 Hens with Pens offer life drawing parties across the UK for all kind of events but in response to requests from our smaller groups, who would like to have a go but holding a dedicated event is not viable, we have launched mixed group events around the country! Whoop!!
This will be a 'Full Monty' party-style event with a difference as it's open to all!
Dressed with your beret and moustache you'll soon have the artists feel!
The tutor will first carry out activities for the first 30 mins to get you all used to pencil/charcoal and paper. Most people haven't used them in this way since school. The model will then join you for the final 60 mins. The model will be nude and will adopt a variety of poses for everyone to draw under the guidance of tutor. Again this will be game or activity led by the tutor.
So whatever type of group you are or if you'd just like to try something new book a place and come and have a go!