Grayson Perry Shines A Light On Artistic Creations In Lockdown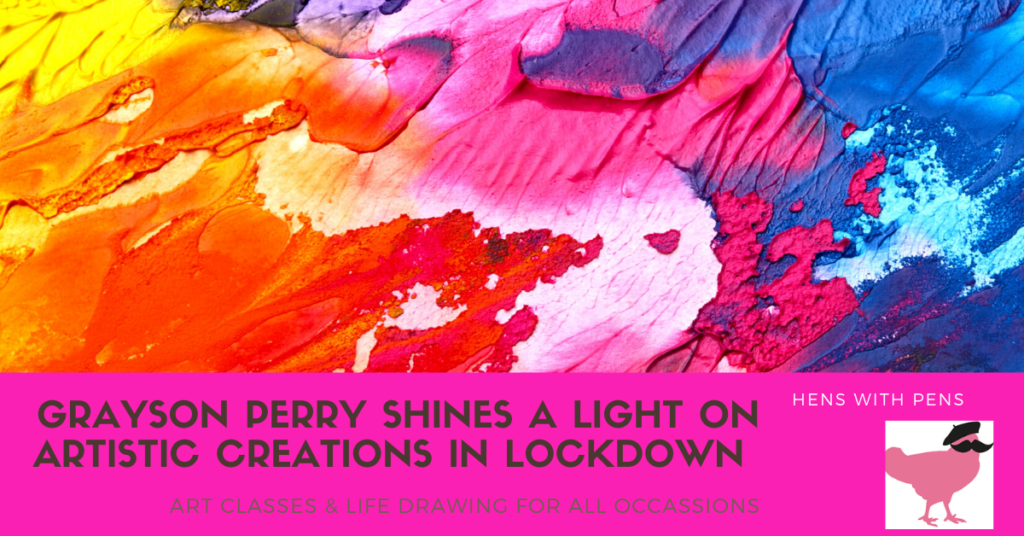 I hope you have managed to catch the Grayson`s Art Club series which has been running on channel All 4 for the past few weeks. The celebrated and very watchable Grayson Perry has hosted the series where he has looked to unleash the potential of all our collective creativity in an effort to unite the nation and help us through the dark times of lockdown and self-isolation.
Teaching Us How To Create Art
To give you a taste of what the series is about here is some of the blurb from the Channel 4 press release on what you have to look forward to:
`Every week Grayson will host the show from his studio – taking the country with him as he creates new art works. Grayson will talk to other famous artists, creatives and celebrity guests about how they are spending their time in isolation and host masterclasses to help teach us all how to create art.  Never tried creating art before? Then this is your chance. Each episode will be themed with something inspired by being in isolation, such as still life or portraits. Grayson will take inspiration from the everyday little things, as he helps you unleash the artistic side you never knew you had.
`Isolation can be a difficult and lonely time for many. We want you to be part of Grayson's Art Club, as we ask for the amazing British public to send in the artwork you have been creating in isolation. Whether you have a talent for meme creation, sculpture, painting, drawing, or maybe you're a make-up artist creating new looks whilst at home? Anything goes.  Each episode Grayson will choose some of his favourite artworks submitted by members of the public and speak to them via video call.  Grayson wants viewers to feel energised to get involved and produce visual representations of what they are thinking, feeling and experiencing in isolation.
`At the end, Grayson will display the art created in a public exhibition that will chronicle the changing moods of Britain in isolation and provide a record of the historic times we've lived through. To do this he needs you to join the Art Club and get creative; being in isolation doesn't mean you're alone. Art can help us through this.
`Grayson said: "I look forward to inviting the nation into my studio for Grayson's Art Club. This series will be as much an act of spontaneous creativity as the stuff that usually happens here. I hope we can make something uplifting in response to the crisis. I will be showing you the progress of the artworks I am making in these strange days, but I am most excited about seeing what artistic creations people all over the country have been up to in lockdown and talking to other artists about how they are dealing with the weirdness. It should be inspiring, fun, full of helpful tips to get the nation making art- and maybe a bit poignant." `
Here in the hen house we've really enjoyed this series.. what did you think?
Ready for a bit of creativity of your own?!