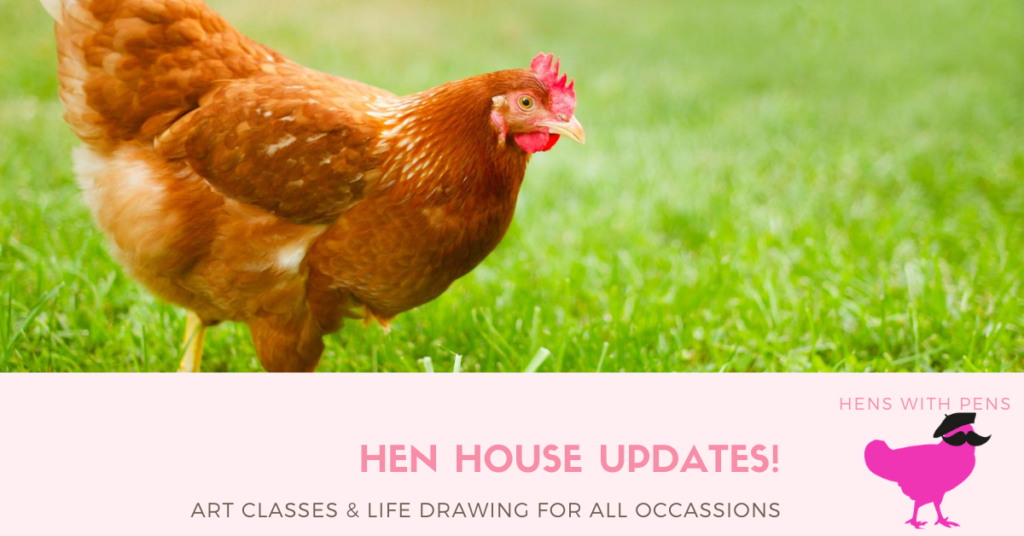 The henhouse understands you may have some questions about how things might run now that our favourite virus has taken a grip on the world. So we decided to let you what will be changing in the world of Hens With Pens life drawing activities.
CORONAVIRUS
You will all be sent a risk assessment document and participation agreement when booking in your party.
What if the worst happens and we have to cancel? If you have to cancel your event owing to either illness or your venue cancelling then we will honour your deposit for a 12 month period from the date of cancellation.
What if our model/tutor/tog fall ill? Should any member of our team become unwell or unable to attend then we will endeavour to replace that team member so that your party can go ahead without a hitch and if we are unable to do so then a full refund will be made.
It goes without saying that everyone needs to follow carefully the guidelines on hand-washing and should a member of your party become unwell then we would request that they do not attend unless cleared by an appropriate medical service.
We only like to run at the highest standard at HWP and this has been reinforced with our teams;
Berets are now for all for everyone to keep. Cute souvenir!
Clipboards are wiped down with a suitable sanitiser to kill any bacteria/ virus.
Any charcoal not in use will be kept in a sealed container
The majority of our teams also have charcoal pencils and if would prefer to use them rather than charcoal please do so as they can also be wiped clean.
All models & tutors should be invited to wash their hands on arrival and departure from your bookings, we would also request that all party participants also follow this guidance. They will also carry sanitiser.
Models and Tutors will be provided with sanitiser to bring to your event.
Paper will be handed out rather than left for everyone to help themselves so as to avoid contamination on the packets
Models will attend with both robes and a cloth/sheet of suitable nature to use for posing on.
Tutors (Models on BB bookings) will call your group the day before the
event to reassure them that they will attend and have no sign of illness and will request the same confirmation from your group.
PARTY PACKAGES
We have decided to extend the time of our parties to give you a better experience. A Hens with Pens hen party life drawing class happens at your venue in any part of the UK.

Will you be taking the – FULL MONTY:
A class where the tutor and model come to you: group drawing games/exercises with life drawing from a male model
Drawing materials provided ♡ Berets and moustaches to wear for fun!
90 minutes
Or will you be stripping down to the – BARE BONES:
A class where the model only comes to you: group drawing games/exercises with life drawing from a male model
Drawing materials provided
Berets and moustaches to wear for fun!
90 Minutes

We work with a range of models and we are very LGBTQ friendly –
for more information, just drop us a line.

If you or your party have any questions regarding the new policies don't
hesitate to get in touch with the hen house at: fairygodmothers@henswithpens.com

And Finally….LOCATIONS!
We've created a funny little map for you to see the wide reach we have
nationwide! Are you curious to see if there are staff near you?

Click here to find out and remember all our staff have a radius in
which they operate either side of their location, so we spread even further!