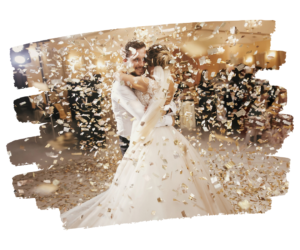 We've been speaking with Resilience Coach Jasmine Ross about those pre-wedding stresses. Here's what she had to say;
Planning a wedding is known for being a stressful time – after all you're planning the most important day of your life, right?
'There are so many decisions to make and there never seems to be enough time and oh holy mother of crickory THE BUDGET!' is on a constant loop in your mind like the road runner on steroids.
Brides, Grooms and the whole wedding planning party are prone to getting overwhelmed and stressed. How many times CAN you argue over the colour of napkins?
I planned my wedding in 3 months for the price of a first car and it was the most laid back planning experience of my life, there's a lot of pressure from family, friends and society at large to have the picture perfect wedding but unless that's what you really want then it's not worth the stress.
If you're a hen who's praying the party is over or a bride about to turn bridezilla keep reading for my five top tips for keeping your cool and planning the day of your dreams (and perhaps the best hen party too!)
Tell me what you want, what you really, really want!We get so swept up in the movie magic of a wedding that people expect that we often forget that it's OUR wedding. A lot of the stress and bride burnout that comes with planning the big day comes from decision fatigue – in other words, we get so worn out saying no to everything that we DON'T want that by the time we say yes to what we think we do we're so exhausted there's no joy in it at all.Let's avoid this by knowing exactly what you want for your big day.

Sit down, Take some deep breaths and close your eyes…

Visualise how you want to feel

Then, what you want to hear,

Once you can feel it and hear it, what can you see?

Start by visualising looking at your partner and then look around the room.

Try and notice everything in your image.

Write everything you think of down. When we start with our hearts rather than our heads we're far more likely to get what we really want rather than what we think we need.

This exercise will help you start by saying yes and reduce that decision fatigue that's going to have steam erupting from your ears.

Be HonestYou and your partner are committing to being together for life. That's a pretty long time to pretend you really loved red when actually it makes your eyes hurt.There's going to be compromises between you but being honest with what you really want for this wedding is going to make it a whole lot easier later on.

Telling someone else what you really want from the get go will also make sure you aren't taking on the wedding of someone else's dreams by just going along with it because it sounds nice for your mother in law.

Get organised – Get the team together!It takes a full military attack squad to pull a dream wedding off! Whether that's a wedding planning ninja or that best friend who's just a little obsessed with stationary and your band of gin-downing goddesses – know who you want with you on this quest for nuptial perfection.Once you have your team write down an exhaustive list of everything you're going to need to do for this wedding – you can get some great wedding planning diaries online and in stationary stores with this list pretty much done for you but it's always good to have your own. Only you are going to remember that you'll need to ring, text, email and then send a letter invitation to uncle ned before he replies.

Getting organised with a tick list is going to alleviate that worst midnight horror of brides… 'what did I forget?'

Break your list down into manageable chunks – I know you want it all done at once but honestly, cake tasting and dress fittings do not work on the same day – trust me on that one!

Delegate as much as humanly possible!I know, I know. It's your big day and you want to be involved in every little inch of it. BUT you will get really busy, miss doing all those awesome things that make you happy pre-proposal and end up resenting the whole thing!On average couples are engaged for 16 months before they walk down the aisle so give yourself a break and delegate!

Sister wants a job? Get her researching those eco-friendly recycled paper invites you saw on pinterest!

Bestie just itching to get planning a girls night out to end all night's out? Give her your strict No, No list and let her handle the hen.

Hubby to be all at sea? Remember this is his wedding too, make sure you both divide these wedding planning tasks to your strengths. It will flow far better.

Keep the communication open between your wedding planning squad – start a group chat, have a weekly planning and pizza night, send carrier pigeons! Whatever works for you.

Don't take it TOO seriously.You're planning your special day and of course we want everything to go smoothly but above all you're going to want to be able to enjoy your day.I can guarantee that something will go wrong, the caterer will forget something, your sister has a dramatic break up on the dance floor, the flowers are half an inch out of place and of course that will totally ruin the day! … If you let it.

If you find yourself getting het up about the small stuff put it in perspective of all you have achieved. It's probably so minuscule you'll start laughing about it like an ant in a field. Take a deep breath, close your eyes and ask yourself:

Is it true that this is the complete and utter obliteration of my wedding because my mother-in-law has started a riot over the quality of a cup of tea?

If not, is it logical to think that it is?

If the answer is still no, is it constructive to you enjoying your day to feel like that?

If it's really something to sweat about get your girlfriends on the case, that llama is not your drama today.
In short the key to keeping your cool and having an enjoyable wedding planning experience? Know what you want, who you want with you, be completely honest with them, let everyone else help you and keep having fun.
You can read more from Jasmine or contact her here