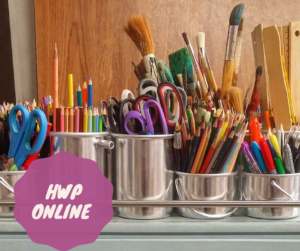 We have a complete programme of online classes led virtually in real-time by our amazing tutors. Aimed to be both fun and engaging as well as educational and self-esteem building, our classes cover a wide range of topics and subjects.
Our tutors actively encourage engagement in the class – no personal information is shared, we run a safe and moderated environment.
We offer a growing programme of events from regular life-drawing, mindful life-drawing, mindful art as well as botanical and landscape classes.
Our classes run weekly, at weekends and other periods as demand requires. We are also happy to provide a dedicated online class for your group
You can book into any of our events here
But here's an example of our programme:
HWP Online Wellbeing Art Workshop
Tutor Jamila leads us in mindful experimental drawing activities, to address your creativity and emotional wellbeing.
HWP Online Life Drawing with Julian & Andrew (Adult Class)
An introduction to the basics of life-drawing with our model and tutors Julian & Andrew.This class will contain nudity and you must be over 18 to participate.
HWP Online: Mindful Life Drawing (Adult Class)
Emily Rose is an artist, and mindfulness practitioner with relaxing music, breathing exercises, posture analysis and mindful practice to get the best out of our drawings, find a favourite photo and draw together in a nurturing and calming collective. This class may contain nudity and you must be over 18 to participate.
HWP Online: Beginning with Landscapes
Suitable for children and adults from age 7 and up, we'll be looking at some simple ways of making a composition. You'll be able to put some basic drawing techniques into practice quickly to effectively improve your drawing skills. We'll introduce perspective, vanishing points, colour blending and more. The rest is up to your creativity and imagination.
HWP Online: Observational drawing, and how to 'see' objects (All Ages)
Take some objects from around the house and put them together- it could be kitchen items such as a teacup, salt cellar and bottle of ketchup… or any 3 or 4 items you can put on a table in front of you. We will look at relationships of each object to each other object, look at negative space, and shading- to see where shadows and light will fall.
HWP Online: Introduction to Botanical Drawing ( Adult Class)
Our tutor will be sharing botanical drawing, and the medicinal properties too – bringing together her professions as an artist and nutritionist. When we stop and really take the time to look, we can see so much more – it is amazing what fun it is to draw our food too and also learn of its nutritious properties. Drawing is a meditative practice, gather a few foods of interest, a herb from the garden, some salad or a pumpkin, and we shall draw together and share some medicinal properties of the foods too.