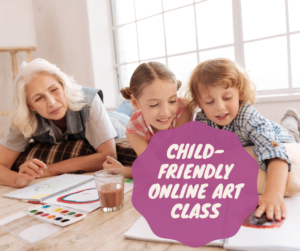 We have a complete programme of online classes led virtually in real-time by our amazing tutors. Aimed to be both fun and engaging as well as educational and self-esteem building our classes cover a wide range of topics and subjects.
Our tutors actively encourage engagement in the class as well as with their other online classmates – no personal information is shared and we run a safe and moderated environment. We do actively encourage adult participation in these classes, so parent, sibling, guardian or grandparents we want to see you drawing too!
Our classes run school holidays, weekends and other periods as demand requires.
You can book into any of our events here
But here's an example of our programme:
HWP Online: Causing a Scene – All Ages
Warm up – draw with non-dominant hand something you find in your house with texture. Jamila will describe a scene, in stages and the participants, follow along, creating their own bespoke image. We will discuss, foreground, mid-ground and background plus lighting choices, with supporting resources. Jamila will draw along with the participants
HWP Online: Abstract Creations – All Ages
Warm up – draw your a self-portrait, using a mirror, only using straight lines.
Jamila will take random pieces of paper out of a bowl with different drawing suggestions on them to create an abstract experimental final piece. With supporting resources.
HWP Online: Beginning with Landscapes (All Ages)
Suitable for children ( and their adults) from age 7 and up, we'll be looking at some simple ways of making a composition. You'll be able to put some basic drawing techniques into practice quickly to effectively improve your drawing skills. We'll introduce perspective, vanishing points, colour blending and more. The rest is up to your creativity and imagination. Please make sure you have art materials with you for this class- you'll need paper, drawing pencils, an eraser and colouring pencils. If you have blendable colouring pencils or watercolour pencils, these will add to the effect, but are not essential to having fun!
HWP Online: Cubist family portraits using complementary colours (All Ages)
Cubist family portraits using complementary colours
Use a variety of simple shapes to build up a portrait of you or a family member. We can look at light/dark areas and use 2 complementary colours of your choice to give a professional finish.
HWP Online: Observational drawing, and how to 'see' objects (All Ages)
Take some objects from around the house and put them together- it could be kitchen items such as a teacup, salt cellar and bottle of ketchup… or any 3 or 4 items you can put on a table in front of you. We will look at relationships of each object to each other object, look at negative space, and shading- to see where shadows and light will fall.
HWP Online: Create a still life! (All Ages)
Pick your favourite objects around the house/flat or garden, something of meaning, a stone from the beach, your favourite toy, a leaf or a flower, a fruit or vegetable, an ornament. Think about each object's shape and colour, pick 3-5 and display prior to the class!
HWP Online: Collage a superhero with Emily Rose! (All Ages)
Our tutor will lead us through our own fantasy worlds – will your hero save the world? Grab some old magazines you have around the house – a piece of paper, some glue and some pens. We are going to make our own superhero together!
HWP Online: Art for fun: Frankenstein Dice Portrait (All Ages)
Warm-up exercise – Stopwatch sketch challenge
Drawing game where artist Jamila Walker directs your wild and wacky self-portrait using dice and your imagination.
HWP Online: Art for fun: What is in the bag? (All Ages)
What is in the bag? Jamila will describe an object that she nor you can see and you draw what she describes, until the big reveal. Even Jamila won't know what is in the bag.  Our visual stories artist  will guide you using bowls of ideas, on pieces of paper to create our drawing story