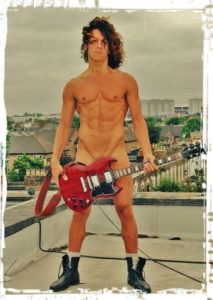 You might think you've seen Andrew somewhere before – and you'd be right! He recently featured as a model on BBC's 'The Big Painting Challenge', and also modelled for the new 'Tarzan' film starring 'Trueblood's Alexander Skarsgaard. He's also the only person ever to be exhibited in the The British Museum twice whilst still alive, appearing in the Museum's programmes as 'The Discus-Thrower', and 'Michelangelo, Closer To The Master'.
Rock n' Roll Andrew is internationally known as a singer/songwriter with his band The Kosmos, who record songs for The Teenage Cancer Trust every year.
Fun, charming, and charismatic, Andrew inspires our London hen parties with his acrobatic yoga poses, which are both visually exciting and great to draw.
Hens with Pens – the arty alternative for cultured hens. Book your London hen party life drawing class here.