Let's go on an artistic adventure with Hens with Pens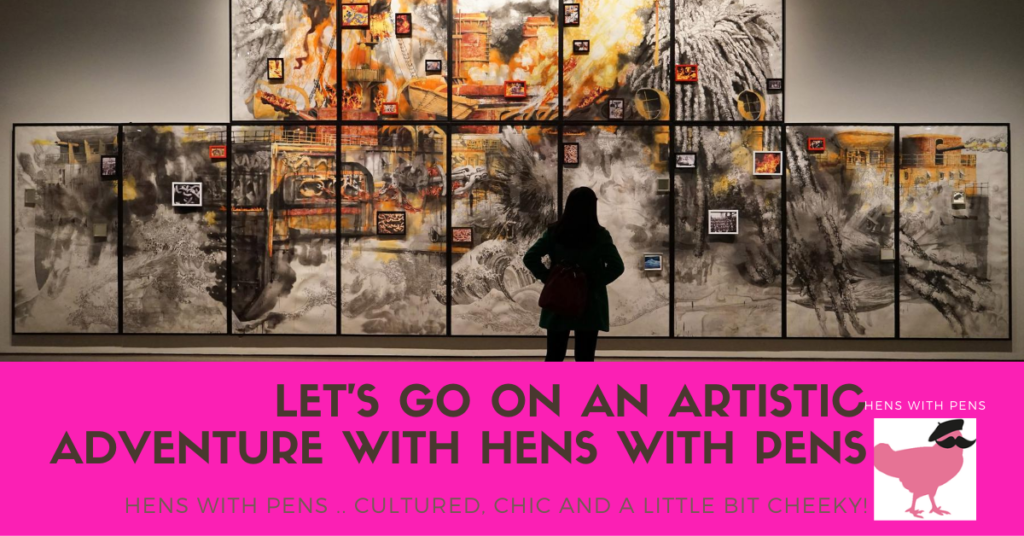 We're taking a guess that whilst your lockdown months may have been full of DIY
and self-care, they were quite … well..boring..!?
Well why not take an adventure in the remaining months of the almighty 2020 and
experience some art to spice things up!
Here are our top suggestions:
September
The Design Museum- opens the first major exhibition devoted to Prada – find out
how a family business became one of the most successful and dynamic fashion
houses in the world.
Tate St Ives- Kosovan artist Petrit Halilaj presents his first UK solo exhibition,
exploring identity and memory – it includes giant performative moth sculptures and
installations of bird-like 'creatures'.
The Lightbox- addresses the continuing under-representation of women artists
with a show drawn from the Ingram Collection – one of the UK's most significant
collections of modern British art. Women at Work places contemporary artists
alongside key modern figures including Barbara Hepworth and Sylvia Gosse.
October
The National Gallery- kicks off October with a major exhibition spanning Raphael's
entire career, to mark the 500th anniversary of his death (above).
Sculptor Auguste Rodin's experimental side will be brought to the fore at Tate
Modern's landmark exhibition, with displays evoking the informal atmosphere of
the studio
.
The V&A – explore 5,000 years of culture in Epic Iran, revealing the immense
artistic achievements of one of the greatest historic civilisations.
The National Heritage Centre – for Horseracing and Sporting Art celebrates the
70th birthday of the world's longest running drama serial, BBC Radio 4's muchloved The Archers.
The ninth edition of the British Art Show – the biggest touring exhibition of
contemporary art in the UK – opens across Manchester before touring to three
other cities.
And the Hepworth Wakefield celebrates two decades of Hannah Starkey's
mesmerising photographs, which engage with the representation of women in
contemporary culture.
November & December
V&A Dundee- celebrating the world's most influential nightclubs in Night Fever,
tracing their design and evolution since the 1960s.
Tate Britain – Turner's Modern World at examines how, unlike many of his
contemporaries, JMW Turner embraced his era's changing industrial landscapes in
his paintings.
Challenging Convention in Newcastle- throws light on a time of great change as
well as struggle for women in Britain through the work of four important 20thcentury artists.
Tate Modern – presents a retrospective of Slovak artist Maria Bartuszová's
beautifully delicate plaster sculptures, created while living in socialist
Czechoslovakia.
Royal Academy -Tracey Emin's career-long fascination with Edvard Munch is given
full rein. Works by both artists reveal a shared preoccupation with the complexity of
the human psyche.
And finally, Bridget Riley's blockbuster retrospective arrives at the Lightbox with
enough bright and bedazzling 'optical' paintings to light up your festive season
through to 2021.
As we are not able to gather all the appropriate up to date information and new
information is rolling out daily, we recommend you contact the venues directly for
information on their approach to the pandemic.
Which one looks best for you?