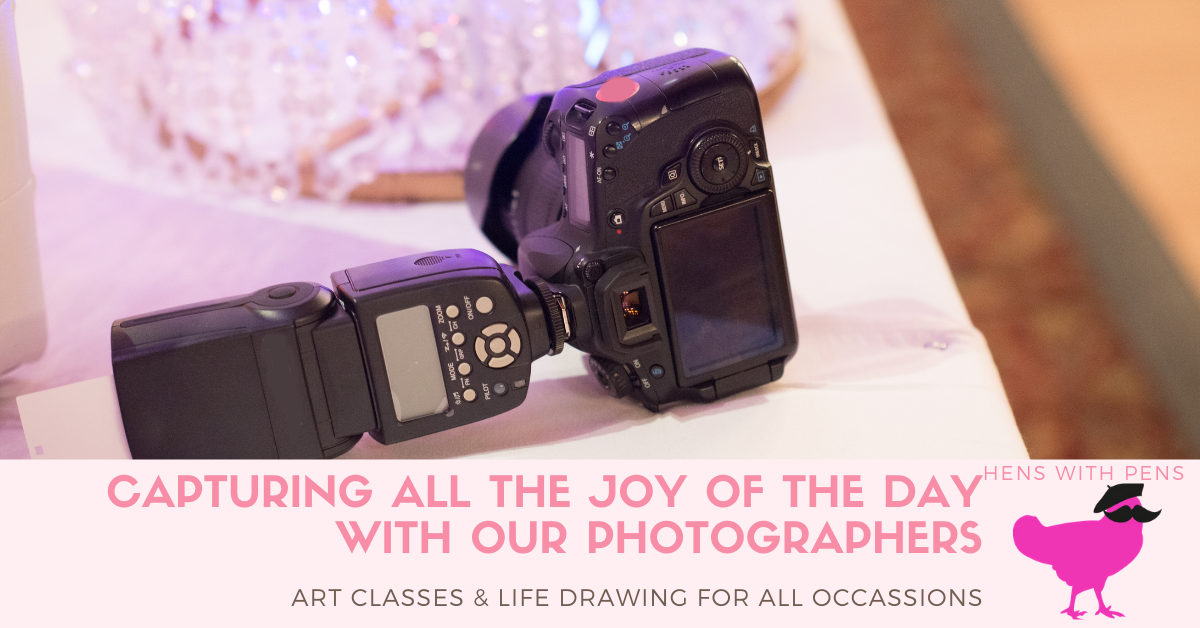 Now we know how much fun all you people have at the classes we put on, be they our art classes or life drawing classes etc. They usually turn out to be an event to remember and to laugh about for months or years to come.
Trouble is in days gone past our clients have more than likely gone home with a few quickly captured images from their mobiles which have not done justice to the event they have been to.
A Hens With Pens Photographer
So as we have been checking the feedback from our classes and looking at ways we can improve the event even further, we have now added an additional service, where we provide a Hens with Pens photographer.
Our photographer will be an experienced and creative photographer who will perfectly capture the essence of the day. They will mix the photos up so that they will capture posed photos next to more raw, fun of the moment photos, so there will be lots to look back on for all the people who attend the classes.
When you are enjoying your day you don`t really want to be bothered taking photos, you want to be in the moment of the day, so we can handle all this side and capture all the wonderful moments that occur.
Having Photos For Posterity
We will produce a beautiful set of photos for you and every one of the participants at the class will receive a copy of these photos. You can use them on your Facebook account, Instagram account or Twitter account etc as you see fit and keep the photos for posterity too.
Adding the additional services of a photographer is already proving popular with many of our clients, some have remarked how the photographer has captured all the laughter of the day perfectly, which is what we always aim to achieve. You will certainly have a great time at our classes whether you add the services of our photographer or not, but this addition does certainly add some thick icing to an already pretty spectacular cake!
If you have not yet used our services it`s probably about time that you did!! For a wonderful day at one of our classes get in touch with Hens with Pens by ringing us on 0203 4883180.