Tutor Tattle: Q&A with our Artistic Tutor - Rita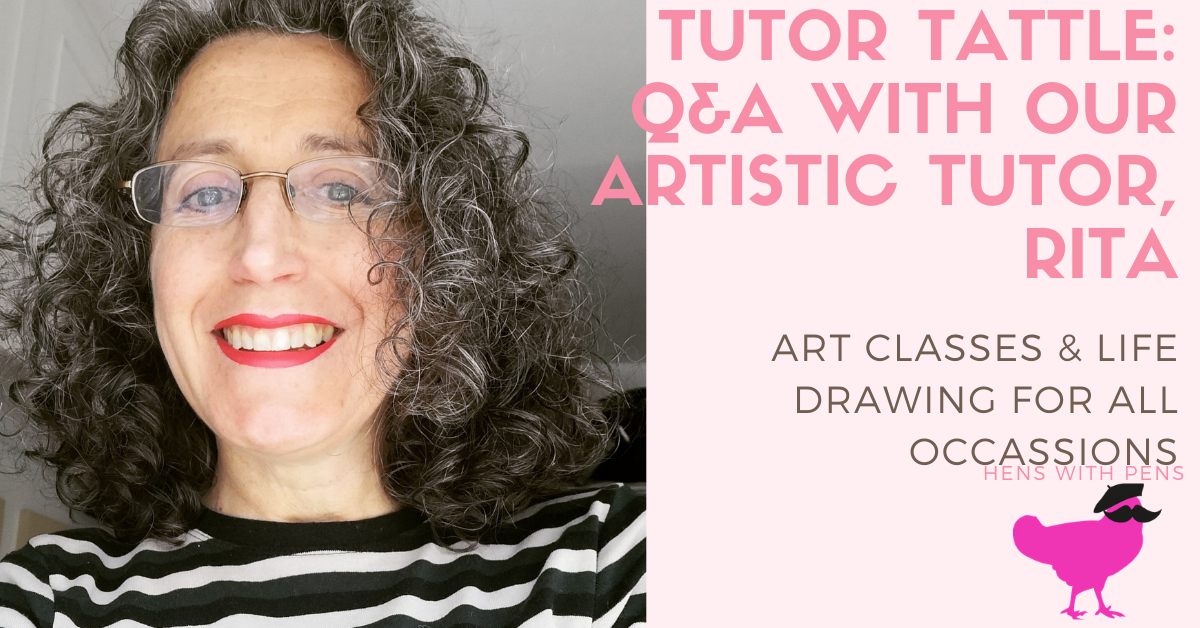 How did you become a Tutor?
My grandfather Albert was a professional commercial artist from the turn of last century until the 1940s. Being an artist got him out of the trenches during the first world war into the Home Office as a map drawer and probably saved his life. This is where he met Leonard, who introduced him to Len's sister Gracie. Albert and Gracie fell in love, married and bore several artistic children, one of which was my father Norman. So it was a bit of shock when I failed my Art O Level aged 16. However this didn't put me off and I persevered with my love of art. A twist of fate lead me to becoming a life model for many groups including the hallowed halls of West Dean College and the London Drawing Group at Greenwich Naval Academy. After several hundred sessions, I decided to try the other side of the easel and turned my hand to drawing nudes myself. I discovered my style. Not so much HP Sauce, but HWP sauce! HwP liked my relaxed personality and interesting style enough to offer me a tutoring role a few years ago, and I'm still here and still loving it
Tell us a bit about your art style?
I'd say my style is a mixture of Beardsley and Beryl Cook! Cheeky, lively and guaranteed to bring a smile to most people's faces.
I've had a few unexpected sessions, like the one where I turned up to the venue, a little puzzled by the absence of noise. Receiving no answer at the door, I pushed the door open to be greeted by a sea of smiling faces, all signing to each other. God must have been smiling down on them, as it happens I used to be a British Sign Language interpreter for a church in Sussex, so I was able to handle the party with no issues, although our lovely lady model was more than a little confused when she first arrived! Another time, it turned out it wasn't a hen party at all, but a 60th birthday party. Although I spoken to the organiser well in advance, she'd decided to pretend it was a hen party as a bit of joke on the birthday lady. I have to say she absolutely loved the party and certainly threw herself into the spirit of things! It's the older ones who know how to party!
Rita's favourite piece is attached below - 'The Two DisGraces'