Pause a While and Draw.. HWP Online classes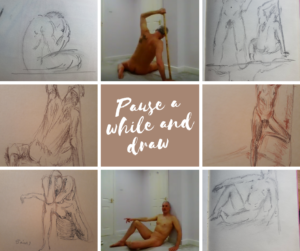 In this difficult week, a group gathered last night for our online life-drawing event and we all had a fantastic time. After some initial fun & games getting ourselves set up, which established a relaxed environment (just the way we like it at Hens with Pens), Andrew guided Julian eloquently into a series of poses and provided great tips and commentary for those of us drawing and well .. attempting to draw!
We've received some fabulous feedback from those that attended including
Emma said 'Thank you so much, I loved the life drawing class and hope to join in again soon.'
Olivia recommended us 'Just had my first online life drawing class, with tutor Andrew , and model Julian. I found it very therapeutic and relaxing after the turbulence of this week, and enjoyed Andrew's observations, which helped me to really look and focus'
We can't ask for more than that ladies!
Our next class is on Saturday evening and you can reserve your place here alternatively you can view our full programme.