How are parties laid out?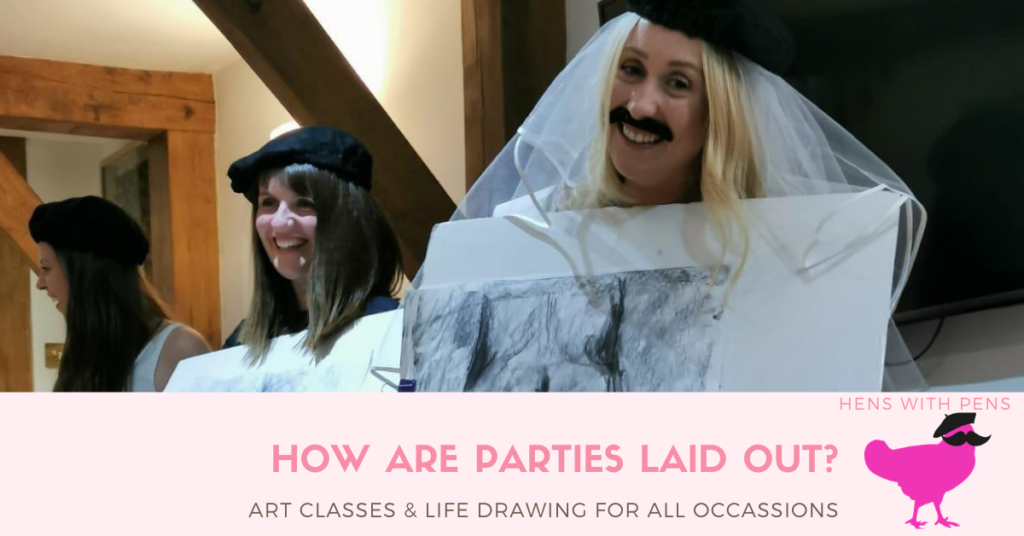 Are you organising a hen party (or any party!) and are wanting a fun-filled, life drawing activity for your event? But maybe you're wondering how it all works… well let me walk you through it!
BOOKING PROCESS:
Once you've submitted a booking request, one of our hen house team will assess your party requirements and do a calculation of your cost. They will then reply to your enquiry with your booking cost and all information about the future process and your party.
It's a quick and simple process, we may contact you asking for further details if needed but this isn't anything to worry about.
Once your costs are all laid out, numbers are confirmed we will send you a deposit payment details, we recommend you pay this as soon as possible to ensure a smooth process, it also allows us to order your materials in good time.
2-3 weeks before your party you'll receive your final balance invoice. You can pay this via the link and you can pay via debit/credit card or Paypal.
Finally, we can also take card payments over the phone: 0203 488 3180.
If you have any more questions about payment options just see out FAQ page or drop us a message!
THE WEEK OF:
The Week of your party you'll receive a call from your model/tutor to run through the party layout itself, what you expect from each other and generally informing you on the new practices in place.
GET EXCITED!!!!!!
DAY OF THE EVENT :
Wake up, refreshed and ready for 90 minutes of jam-packed fun, get excited, get ready!
You'll meet your model and or tutor/photographer at your chosen venue, they'll always arrive slightly earlier to ensure they have time to get set up and changed ready for the party.
They'll chat with you, get to know you, run through the guidelines and then begin the fun!
If you've opted to have a tutor with your party, they will help you in honing your skills getting back to grips with pencils and charcoal as it's probably been a while! Once you've all laughed at how good or bad your skills are, your model will take centre stage posing in a combination of simple and complex poses to highlight different features of the body.

If you're sticking to the Bare Bones, then your model will run through a warm-up to get your fingers tingling before they leap into the main event.
Once you're all finished... DON'T FORGET to make sure you get a group photo and tag us on instagram, facebook or trustpilot @henswithpens
Any other questions just drop one of the henhouse team a message or check out our FAQ's page